Tucson Bike Tow is dedicated to providing professional and affordable motorcycle towing services within Southern Arizona. Our employees are like minded motorcycle enthusiasts and riders who know how to treat your ride with the same care we treat our own. We completely understand you hope to never have to tow your motorcycle or scooter anywhere, but we are here when the need arises providing you with quality care you and your ride deserve.
When you need a tow or motorcycle storage in Tucson or within Southern Arizona, count on Tucson Bike Tow to be there for you.
We are open 7 days a week.
Call us at: (877)-245-3869 | 877-BIKE-TOW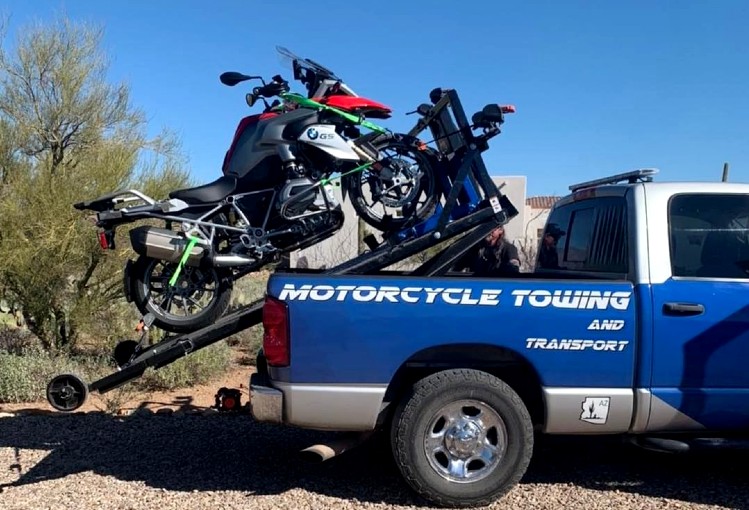 Our Services:
Motorcycles Towing – up to two bikes at once or one Trike/MC with Side Car/Spyder
ATVs, Side by Sides, Scooters, Dirt Bikes, Electric Scooter/Bike and Golf carts
Dealer Inventory Transfers
Jump starts and fuel service – Vehicles of any kind
Motorcycle Care & Storage
Travel Trailers (no 5th wheels)
Transport Services – Specialized Transports throughout all of Arizona, Southern California, Las Vegas, and New Mexico.
We accept all major credit cards
We are open 7 days a week
Call (877)-245-3869 | 877-BIKE-TOW

Why Tucson Bike Tow?
Trained Professionals
Our employees are all trained professionals who feel that our unique services and specialized tow trucks within this industry are long overdue. We are locally owned and operated and cover Southern Arizona cities surrounding Tucson. We are suited for motorcycles, scooters, and all ATVs. No job is too big or too small.
We are licensed and insured and open 7 days a week.
To request service please call us at (877)-245-3869 | 877-BIKE-TOW.
Prioritizing Safety and Efficiency
We have all the tools needed to safely secure and tow your motorcycle, scooter, and ATVs. Our custom designed tow truck is equipped to handle all body styles of motorcycles and scooters and have optimum tie-down points available to ensure a smooth and secure pickup, ride (including passengers), and delivery. We service our equipment regularly to ensure we are operating with top performance gear to efficiently load and unload your ride, thereby, saving you time and money.
Additional Services
If you get stuck on the side of the road, we deliver fuel and provide jump starts for any vehicle types. Give us a call and you will not regret the fast, reliable, and efficient service.
Our prices are very competitive, and you will not be disappointed.
If you require motorcycle storage and maintenance while away on military deployment, ask us about our Military Deployment Motorcycle Care service.
What areas do you tow in Southern Arizona?
Tucson Bike Tow covers a large area including all of Tucson, Vail, Wilcox, Tombstone, Bisbee, Benson, Sierra Vista, Green Valley, Sahuarita, Nogales, Marana, Oro Valley, Red Rock, and much more. Call us at (877)-245-3869 | 877-BIKE-TOW as we may tow more locations than what's listed here.
Below is a list of all motorcycle towing locations we include within our range, but we may be able to accommodate jobs in other locations, just give us a call or shoot us an email and we will let you know asap.
| Zip Code | City | County |
| --- | --- | --- |
| 85145 | Red Rock | Pinal |
| 85601 | Arivaca | Pima |
| 85602 | Benson | Cochise |
| 85603 | Bisbee | Cochise |
| 85606 | Cochise | Cochise |
| 85609 | Dragoon | Cochise |
| 85611 | Elgin | Santa Cruz |
| 85613 | Fort Huachuca | Cochise |
| 85614 | Green Valley | Pima |
| 85616 | Huachuca City | Cochise |
| 85619 | Mount Lemmon | Pima |
| 85621 | Nogales | Santa Cruz |
| 85622 | Green Valley | Pima |
| 85624 | Patagonia | Santa Cruz |
| 85627 | Pomerene | Cochise |
| 85628 | Nogales | Santa Cruz |
| 85629 | Sahuarita | Pima |
| 85630 | Saint David | Cochise |
| 85635 | Sierra Vista | Cochise |
| 85636 | Sierra Vista | Cochise |
| 85637 | Sonoita | Santa Cruz |
| 85638 | Tombstone | Cochise |
| 85640 | Tumacacori | Santa Cruz |
| 85641 | Vail | Pima |
| 85643 | Willcox | Graham |
| 85644 | Willcox | Cochise |
| 85645 | Amado | Santa Cruz |
| 85646 | Tubac | Santa Cruz |
| 85648 | Rio Rico | Santa Cruz |
| 85650 | Sierra Vista | Cochise |
| 85652 | Cortaro | Pima |
| 85653 | Marana | Pima |
| 85654 | Rillito | Pima |
| 85658 | Marana | Pinal |
| 85662 | Nogales | Santa Cruz |
| 85670 | Fort Huachuca | Cochise |
| 85671 | Sierra Vista | Cochise |
| 85701 | Tucson | Pima |
| 85702 | Tucson | Pima |
| 85703 | Tucson | Pima |
| 85704 | Tucson | Pima |
| 85705 | Tucson | Pima |
| 85706 | Tucson | Pima |
| 85707 | Tucson | Pima |
| 85708 | Tucson | Pima |
| 85709 | Tucson | Pima |
| 85710 | Tucson | Pima |
| 85711 | Tucson | Pima |
| 85712 | Tucson | Pima |
| 85713 | Tucson | Pima |
| 85714 | Tucson | Pima |
| 85715 | Tucson | Pima |
| 85716 | Tucson | Pima |
| 85717 | Tucson | Pima |
| 85718 | Tucson | Pima |
| 85719 | Tucson | Pima |
| 85720 | Tucson | Pima |
| 85721 | Tucson | Pima |
| 85722 | Tucson | Pima |
| 85723 | Tucson | Pima |
| 85724 | Tucson | Pima |
| 85725 | Tucson | Pima |
| 85726 | Tucson | Pima |
| 85728 | Tucson | Pima |
| 85730 | Tucson | Pima |
| 85731 | Tucson | Pima |
| 85732 | Tucson | Pima |
| 85733 | Tucson | Pima |
| 85734 | Tucson | Pima |
| 85735 | Tucson | Pima |
| 85736 | Tucson | Pima |
| 85737 | Tucson | Pima |
| 85738 | Catalina | Pima |
| 85739 | Tucson | Pima |
| 85740 | Tucson | Pima |
| 85741 | Tucson | Pima |
| 85742 | Tucson | Pima |
| 85743 | Tucson | Pima |
| 85744 | Tucson | Pima |
| 85745 | Tucson | Pima |
| 85746 | Tucson | Pima |
| 85747 | Tucson | Pima |
| 85748 | Tucson | Pima |
| 85749 | Tucson | Pima |
| 85750 | Tucson | Pima |
| 85751 | Tucson | Pima |
| 85752 | Tucson | Pima |
| 85754 | Tucson | Pima |
| 85755 | Tucson | Pima |
| 85756 | Tucson | Pima |
| 85757 | Tucson | Pima |
| 85775 | Tucson | Pima |